Bookstore

GriefShare (3.0) MP3 Disc
The audio tracks from all 13 sessions are included on this MP3 disc. The MP3 disc is perfect for personal use by group participants and leaders.
---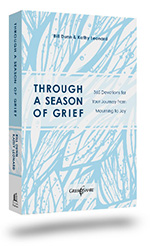 Through a Season of Grief: Devotions for Your Journey from Mourning to Joy
Through a Season of Grief is a perfect gift for a grieving person and an essential, daily help if you've lost a spouse, child, family member, or friend.
Through a Season of Grief includes 365 daily devotions that offer biblical comfort and practical teaching that will enable you to take steps forward each day toward healing. You will better understand the grieving process and will receive needed encouragement along the way.
More than 30 respected Christian professionals share their insights on how to walk through the devastation of grief toward wholeness and hope. You will also hear from people like you who have lost a loved one and have found God's healing presence in the midst of despair.
Through a Season of Grief is a GriefShare-based book with valuable insights and words of comfort and truth that have helped many people find help and hope on their journey of grief.
---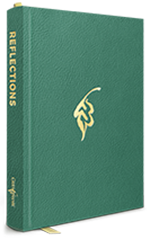 GriefShare Journal
Reflections: A Guided Journal by GriefShare is a companion tool to your GriefShare experience. The guided journal features probing questions that help you go deeper into your group topics, as well as helpful insights and plenty of room to write through your reflections to find self-discovery, stability, and hope. And it's a beautiful keepsake, designed to help you track your growth and save cherished memories of your loved one.
---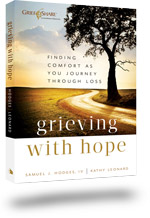 Grieving with Hope: Finding Comfort as You Journey Through Loss
Grieving with Hope clarifies the popular misconception that people move through stages of grief. This will be an encouragement to many, as grieving people often think something is wrong with them when their grief doesn't proceed neatly through stages. The reality is that grieving people jump back and forth between different emotions, sometimes wrestling with multiple emotions at once.
This book is packed with short, biblical, gospel-centered, topical chapters addressing the issues grieving people face but are often hesitant to mention to others. It helps readers accurately interpret the message their emotions are sending them and gently guides them to determine whether they're grieving in a way that leads to hope and ultimate healing. Developed from interviews with over 30 well-respected Christian counselors, teachers, and authors, as well as numerous personal testimonies, Grieving with Hope helps the bereaved discover how hope and peace are available amid their heartache and pain.
Grieving with Hope is based on the GriefShare grief recovery support group program and is cowritten by Sam Hodges and Kathy Leonard. GriefShare is found in thousands of churches around the world and has helped over 100,000 individuals find healing from grief.